These classes are for the Members of the Basic Grey Page of the Club. We will be taking new subscriptions for this monthly kit club starting now, with the first club meeting of 2012 - 2013 beginning in MARCH. Each Kit for the new sessons will be $27.00 + taxes. If you would like to join for the March 2012 – February 2013 sessions please email us at allaboutscrapbooks@gmail.com or give us a call 519-533-1500, by the end of January.
Both of our January and February Classes feature product from the Newest Collection from Basic Grey ~ "Kissing Booth"
January's POTM - KISSING BOOTH #1
With Kimberly
Jan. 25, 2012
7:00pm - 9:30pm
$27.00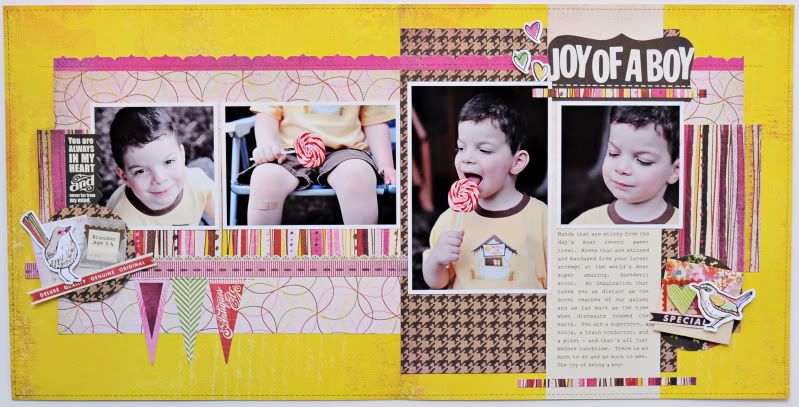 January potm by Lynn Ghahary features a bright, colourful take on Kissing booth. With the bright colours and early spring motifs are featured in this layout, nothing could signal a start to a new year better. This features adorable mini envelopes and die cut cardstock – what a great chance to write little note to yourself or a cheery sentiment to encourage someone else in their 2012 goals.
Please Bring with you:
2 ~ 4x4 square photos, 1 ~ 5.5x4 Landscape photo, 1 ~ 4x6 portrait photo, 3" circle punch, White Journaling Pen, Black Journaling Pen, Trimmer, Scissors, Ruler, Favourite adhesives & foam tape
Kimberly's Version
Please bring with you:
1 ~ 4x6 Portrait photo, 3 ~ 3x4 Portrait photos, 1 ~ 4x3 Landscape photo, 1 ~ 7x5 Landscape photo, Dark brown ink, Foam tape - Basic Kit
February's POTM - KISSING BOOTH #2
With Kimberly
Feb. 29, 2012
7:00pm - 9:30pm
$27.00
Kelly Goree brings out Kissing booth's romantic side in February's layout. February's layout is another example of how this line can be used. In a traditional lovey-dovey set of colours & embellishments. So why not scrap some of your most cherished romantic memories. From a first date to a first kiss to a 50th anniversary party, remembering why you love the ones you love is Feb's theme. From spouses to kids to pets – Everyone loves someone.
Please bring with you:
3 ~ 3.5x5 Portrait photos, Scallop border punch, 2.5 scallop circle punch, 2" circle punch
Brown Journaling Pen, White journaling Pen & Brown Ink
Trimmer, Scissors, Ruler, Favourite adhesives & foam tape
Kimberly's Version - Feb 2012
To create this version, please bring:
Photos All Landscape: 4 ~ 3x5, 4 ~ 2.5x3.5 & 3 ~ 1.5x2
1 - 1.5" Heart punch, Brown ink, Brown journaling pen, Notebook hole punch, Scalloped border punch, Brown Journaling Pen, White journaling Pen & Brown Ink, Trimmer, Scissors, Ruler, Favourite adhesives & foam tape