Date: April 16th
Time: 7:00 - 9:30
Cost: $7.00
With Kimberly
8 spaces available
Have you ever wondered what to do with all those wonderful scraps of cardstock or patterned papers and embellishments you purchased ~ just because?
Well, we want you to search your scrapping stash, then come and hang out with us in our cropping area for some creative fun. We will be using the sketches from the Scrapbook & Cards Today ~ Project 12 to create a double layout each and every month.
To complete each layout you will be given a detailed list of supplies needed & a Project 12 page map. You can purchase the papers and embellishments of your choice or better yet - use your own scrappy stash!
This way, the projects will always be with products of your own taste and it helps you use products you already own. You will finish class with a unique project that is just your style to everyone else in class. You will learn some fun techniques too. You can stretch your supplies and your dollar by using your supplies to create a fabulous ablum.
These classes are great for every level of scrapbooker! Beginners will learn new techniques, paper combination, photo placement, as well as learning how versatile and useful sketches are. Advanced scrappers get to use their abundant stashes, be inspired to get more pages done and everyone learns how to make their products go farther and enjoy a great social night out! Please note that only the Page Map sketch will be posted as an image because each page will be very different. Sketchs are sometimes in monthly themes - you can follow the themes if you like.
Ages 12+ welcome
APRIL'S SKETCH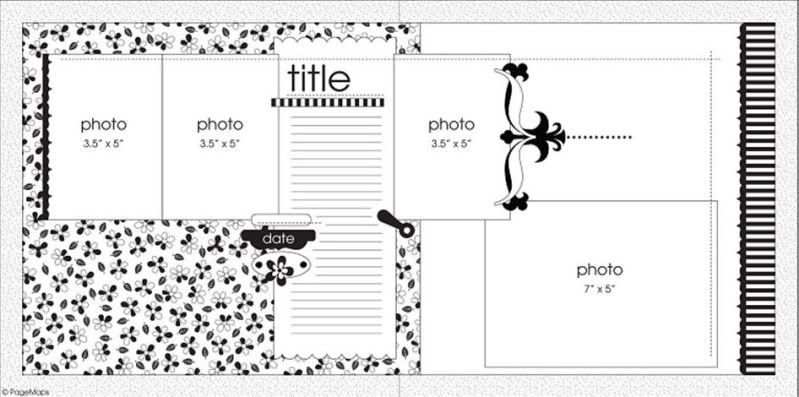 Supply List for April:
2 ~ 12x12 matching cardstock
1 ~ 12x12 coordinating cardstock
1 ~ 12x12 Med. print patterned paper
1 ~ 12x2 Patterned paper
1~ 12x4 Ledger paper or light cardstock or jounaling blocks.
1 ~ 5x5 cardstock to be cut into fancy shape, or large rubon or your own fancy diecut.
.5" ribbon, lables, letter stickers, gems or brads, photo tab embellishment.
2 different border punches
3 ~ 3.5x5 portratit photos
1~ 7x5 landscape photo